Auto-start guides are a great way to showcase new features or processes to users.
To use this feature, select Auto Start in the guide details of a new or existing guide.
Hide from guide list
This guide will not be visible in the JumpSeat Console Guide Library for non-author users.
Start from any page
This guide will ignore the URL and start from the first page a user visits when this guide is activated and assigned a role.
Guide Acknowledgement Options
None – Closing the guide will dismiss the guide and not be presented to the user again.
Suspend: Show me later – Suspend gives the user the option to click Show Me Later. The length of the suspend is controlled with the Suspend Behavior option
Dismiss: Don't show me again – The user has the option to click Don't Show Me Again .The guide will be permanently prevented from auto starting. Closing the guide or not completing the guide will cause the guide to start over. It must be completed or Don't Show Me Again must be clicked.
Suspend & Dismiss – Both suspend and dismiss are available on the first step.
Suspend Behavior
Show Next Time – The guide will auto start the next time the user uses the software or after 24 minutes of inactivity.
Show Tomorrow – The guide will auto start in 24 hours
Show Next Week – The guide is will auto start again in 7 days
Which page will the guide start on?
Unless the Start from any page option is checked. The auto start guide will follow the same rules as other guides.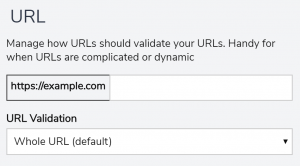 In the first step of the guide, in the location settings, choose which URL Validation to use. The auto start guide will validate the URL based on this setting.